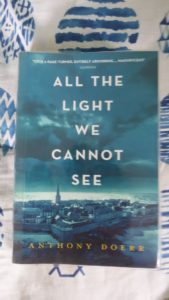 Review: All the Light We Cannot See by Anthony Doerr
I took my time with this one. It is a book to be savoured not just for the story, but also for the beauty of its narration.
The story seamlessly weaves between two time-lines – Word War II and the years immediately preceding it — and I loved how masterfully the events and little revelations in each timeline inform and enhance the reading experience of the other as the story proceeds.
With Germany's growing aggression, the tension slowly builds up till the Parisian air practically crackles with it. People go about their normal lives, but always, there is the undercurrent of rumour and anxiety. And then, finally, this one stunning, simple sentence – "The war drops its question mark."
The story is about three ordinary people brought together by war.
There is Marie-Laure, a blind girl whose father has constructed a miniature wooden replica of the town of St. Malo for her to help her find her way around the real one. Like Marie-Laure, the reader too has likely not seen St. Malo with his/her own eyes. But, the book brings the walled city and its people to life in a vividly visual, sensual manner – the cathedral with its perforated spire down whose length "the flock of pigeons cataract", the star-shaped ramparts, the rows of houses studded with chimneys, the market, the baker's, the pebbled beach leading to the ocean that "sucks and booms…shifts and dilates and falls over itself". And as Marie-Laure walks her fingers down the streets of the miniature model, naming them one by one, you realize that this must how she sees St. Malo in her mind – a living, breathing place, full of sights, sounds and smells.
There is Werner, a whiz-kid with a natural flair for electronics. Growing up listening to a science program on a discarded radio that he manages to fix, he does not want anything to do with war. All he wants is "string and spit and wire and a voice on the radio offering a loom on which to spin his dreams." But, his talent with radios makes him a valuable cog in the German war machinery.
And, there is Etienne, a man who is still tormented by the ghosts of the First War, so much so that he has been afraid to set foot outside his house in two decades.  Yet, this frightened, traumatised, isolated man suddenly finds himself in the know of all that is happening in town, as he is co-opted into one of the most dangerous jobs there is – using his homemade radio transmitter to send news of townsfolk to their families, and clandestine military secrets to the Allies, across the water in England.
In all, it is a beautiful story about the innocence, courage and humanity that war slowly drains away, and also about the innocence, courage and humanity that, despite it all, remains.