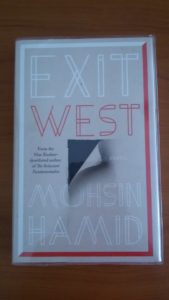 This is a book that reimagines the refugee/migrant crisis with a touch of magical realism in the form of "doors" that appear all over the world opening into different countries and continents. The doors that lead to the "nice" places are, of course, guarded and barricaded and difficult to get through, but still large numbers manage to slip through. With the doors making meaningless sieves of national borders, the very existence of separate nation-states is brought into question.
The story starts in an unnamed strife-torn country where two young people – Saeed and Nadia – fall in love amidst increasing chaos and approaching civil war.
"It might seem odd that in cities teetering at the edge of the abyss young people still go to class … but that is the way of things, with cities as with life, for one moment we are pottering about our errands as usual and the next we are dying, and our eternally impending ending does not put a stop to our transient beginnings and middles, until the instant when it does."
Saeed lives with his parents in a typical middle-class household. His parents – a schoolteacher and a university professor – have both "chosen respectable professions in a country that would wind up doing rather badly by its respectable professionals", so that with the worsening situation and no means to get his family out to safety, his father is left to wonder whether "the far more decent path would have been to pursue wealth at all costs."
Meanwhile, war looms ever closer with "front lines defined at the level of the street one took to work, the school one's sister attended, the house of one's aunt's best friend, the shop where one bought cigarettes."
When an opportunity to leave presents itself in the form of a door, Saeed's father insists on remaining behind, knowing he will only compromise their chances of survival —  "he had come to that point in a parent's life when, if a flood arrives, one knows one must let go of one's child, contrary to all instincts that one had when one was younger, because holding on can no longer offer the child protection, it can only pull the child down, for the child is now stronger than the parent and the circumstances are such that the utmost of strength is required" (such a poignant, heart-breaking sentence, that.)
The story then follows Saeed and Nadia as they traverse the unfamiliar trajectories of migration from Mykonos to London to California, living in limbo for long periods, surrounded by other transients much like themselves such that no long-lasting friendships or bonds can be formed, and their own bond becomes as much a source of grating irritation as of solace and comfort.
For me, the story began to flag almost as soon as Saeed and Nadia stepped through that first door and left their home country. After a point, I failed to stay invested in them and in what became of their relationship.
There was also a marked shift in the narrative from the specific to the generic, and even there it was whimsical and unconvincing at times.
A case in point: There is a build-up to an imminent face-off, a hopelessly one-sided confrontation, between the military and riot police in London and the migrants who have taken over some neighbourhoods. After a brief skirmish, the military retreats and electricity and water is restored to the migrant-held areas. The author suggests that the powers-that-be "…had understood that the denial of coexistence would have required one party to cease to exist, and the extinguishing party too would have been transformed in the process, and too many native parents would not after have been able to look their children in the eye, to speak with head held high of what their generation had done."
Perhaps I'm being cynical but that seemed to me a rather simplistic interpretation, more like wishful thinking. I wonder if, when push comes to shove, such considerations will ever stop anyone. If history is any guide, hasn't mankind committed some of its worst blunders and atrocities with its head held high? Regrets come much later, sometimes several generations later, if at all.
After a superb beginning that evoked the realities of a city slowly falling apart, the remaining story did not engage me, but the beautiful writing most certainly did. As you might have already gauged from the quoted extracts, the lyrical prose, strewn with little nuggets of wisdom and sparkling insights, makes the book well worth the time, and in all, it was a very satisfying read.