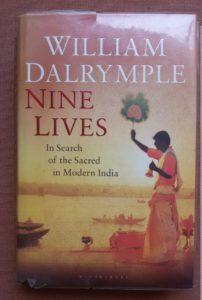 A wonderfully engaging and readable book about the confusions, contradictions and challenges involved in the practice of ancient traditions and rituals in a rapidly-changing, fast-paced modern India.
An ash-smeared Naga sadhu trekking the route to Kedarnath who also happens to be an MBA graduate and was once a sales manager for Kelvinator.
A prison warden in Kerala who spends most of the year keeping his head down and trying to navigate a safe path through the violent political rivalries of far-right and far-left prisoners, but for two months every year becomes a vessel for divine possession as a theyyam dancer.
A sculptor of temple bronzes in Tamilnadu who can trace his lineage through an unbroken line of sculptors right up to the times of the Chola dynasty under Rajaraja I, but must reconcile himself to his son's career choice of becoming a computer engineer in Bangalore.
A young woman brought up in a privileged environment within the folds of a loving joint family, who renounces her home and family for the difficult life of a Jain nun and must now grapple with one final attachment – her grief over the death of a sister nun, her close companion and co-traveler in the path of Jain monkhood.
A Tibetan monk who renounced his monastic vows to take up arms against the Chinese incursion only to be swept along by the political tides of the subcontinent and find himself in the Indian Army fighting in the 1971 war to which he has no ideological connection, and now, in his old age, lives a simple life in Dharmashala making prayer flags as penitence for the violence he committed, reconciled to the fact that he will not go back to a free homeland in his lifetime.
A renowned tantric living in a cremation ground in Tarapith, West Bengal, in a hut filled with cured skulls used to summon the spirits of the dead, who is reluctant to speak to journalists about his work because his sons, successful ophthalmologists in New Jersey, have forbidden him from doing so.
A bhopa from Rajasthan whose tribe of ballad singers, despite being illiterate themselves, have kept an invaluable part of our literary heritage virtually intact through centuries by passing down many lesser-known epic-poems and ballads from generation to generation in the oral tradition.
Through the lives of these and other people, Dalrymple, with his trademark insight and sensitivity, once again shows us a subcontinent that refuses to be tied down by simplistic definitions, and an India that has and will always defy all manners of generalization.